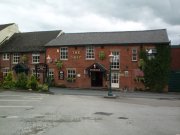 Proprietors: James McDowell, Nigel and Julie Marsden.
Bunker Street
Freckleton
Preston
Lancashire
PR4 1HA
Tel: 01772 632393

The Ship was first licensed in 1677 but is believed to date back to the 14th century, making it the oldest pub in the Fylde.
There is good home made food, either as a snack or as a more satisfying meal, available seven days a week. In more clement weather, you may wish to sit outside in the beer garden to the rear. There are spectacular views over Freckleton Marsh.
The Ship entrances have been modified to enable easy access for wheelchairs. Unlike the other two pubs in the village, only minimal facilities are available for smokers.


Opening Times:
Monday - Thursday
Friday - Saturday
Sunday
12:00 - 11:00pm
12:00 - Midnight
12:00 - 10:30pm