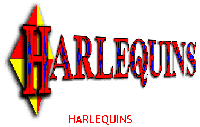 Murder Mystery by Harlequins

Harlequins have been making a name for themselves with their Murder Mystery events and Comedy Plays in Freckleton and have now gained quite a following.
Their next venture is a Murder Mystery based on a local school reunion. Several students from St Ninians have been in contact through the ˜Mates Meet Again" website and have got in touch with favourite teacher Fennella Brodie. She has arranged a get together. Major Bennett, one of the school governors is invited, along with past students of the school: Cyndy Sparkle, Sasha & Annabel Denton-Wilde and Emelia Campbell-Black.
The evening goes downhill rapidly when the event is interrupted by two uninvited guests:- Deirdre Blackburn, the evil, vindictive and hated school mistress, together with her assistant, the equally hated Carrie Sidekick. They have found out about the event and decided to make an appearance.
You will have to come along to the event to find out how the evening unfolds, but you can be sure of an entertaining evening. The audience will be invited to interrogate the players and guess the murderer and motive if they wish or simply sit back and enjoy the evening. Prizes are awarded to the correct solution

Venue: Freckleton Memorial Hall
Cost: £6.00 Includes Hot Pot Supper and drinks.
Contact: Barbara on 01772 682491 or Chris on 01772 880203
Date: 08/12/2007
Time: 19.30